< Photo by Larry Garland
Though the rains have been torrential at times, the sunsets have been spectacular.  West Virginia is indeed "Wild and Wonderful." Pano by Robin Moeller
President Jim Schwerdfeger declares the 2016 International WBCCI Rally officially OPEN!
The community of Lewisburg has been extremely and publicly appreciative of all that Airstreamers have done for them after the floods. Today members packed up emergency boxes and unloaded yet another semitrailer full of supplies.
Here are some more opportunities to help.  Please contact these organizations directly.
**Lewisburg Volunteer Center**
Old Calvary Baptist Church      113 Montvue Drive
Contact: Molly Greenhouse 443-370-8319
Secondary Contact: Alison 269-615-9156
– Sending people to work in donation center (moving boxes)
– Also sending people to Rainelle Medical Center to help people move stuff out of houses (likely to be dirty work)
**Samaritans Purse **
Rhema Christian Center     3584 Davis Stuart Rd
Phone: 304-445-1064
–    Sending out people in two shifts: 7:30am and 12:30pm
– Only taking volunteers at those times!
– Need to show up with work clothes, leather/durable gloves
– Brief paperwork
**Ronceverte Fire Department**
724 Ronceverte Ave
Phone: 304-647-5233
– Working in the shelter, unloading boxes
– Short application form
---
Members are asking, "Where's the tour desk?"  The TOUR DESK is in the Douglas Annex Building in a little corner near the back door, behind the photos.
9:30 a.m. in the WV Auditorium – Justin Humphreys from Airstream, Inc. will be addressing the rally.  Find out what Airstream is planning for the future.
The Technology Help Desk will be open on Wednesday from 11 a.m. to 1 p.m.  Stop by after the Airstream presentation and get your tech questions answered, simply.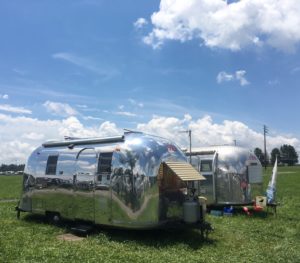 Noon to 3 p.m. is a Rally Highlight – The Vintage Airstream Club's Open House. Celebrate the history of our club by visiting the first Airstreams.  Each one has a "story," which the owners love to share.  The VAC parking area is at the top of the hill, near the large white tent.  Remember, everyone is welcome to attend the VAC Happy Hour at 5 p.m. each day in the VAC tent.
Learn about great, and not so great, apps for travelers at 1 p.m. in the Cafeteria – "Smart Apps for Smart Travelers" Presentation and Sharing Session 
You will kick yourself tomorrow if you miss tonight's entertainment: Bob Stansbury & Friends.   He's wonderful, and he's ours.
---
Today's Tech Tip:  Know your Passwords?
Passwords are our first line of defense in our online world and most people think theirs are as strong as Fort Knox. Sadly, "fool-proof" passwords don't usually translate into "hack-proof" ones. (Click here for more . . . )
---
ATTENTION:  Vendor BLUE OX will not be attending the rally.  Members who were expecting to pick up product are asked to contact their Blue Ox Representative.
The Ladies Tea and Retro Fashion Show was a hit.  It was amazing what came out of some closets, and what still fit!
Today the VAC really kicked it up a notch with their 5 o'clock Happy Hour in the VAC tent.
Vendor Seminars for Wednesday June 29:
8:30-9:00am  
Sky Med  
WV Auditorium
11:00am-12:00pm  
Tire Safety and the Use of Tire Pressure Monitors  
WV University Bldg
1:00-2:00pm   
The Pampered Chef – Rock Your RV  
WV University Bldg
2:00-3:00pm   
Application of Graphic Stickers by Simply Etched Stickers  
WV University Bldg
3:00-4:00pm   
Tire Safety and the Use of Tire Pressure Monitors  
WV University Bldg
Today was THE day for pictures, many of which were taken by Dennis Ober.  Thanks, Dennis, showing us those great details that we sometimes miss.